TEACHING VIDEO ART AS A SECOND LANGUAGE - 2007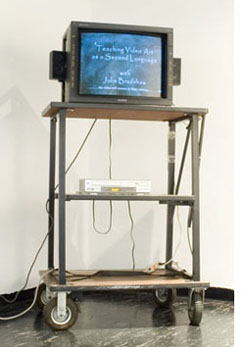 The video is in the form of an educational video.  The performer, wearing an apron and talking directly to the camera, references the direct camera work and direct demonstration approach of Martha Rosler's 'Semiotics of the Kitchen' (thus an opportunity to learn an aspect of video art is embedded in this video).

In this video, I thought, wouldn't it be good, if we could learn video art in the same way one learns a foreign language. The thing I am sitting on is either named a chair (oder Stuhl auf Deutsch), or it isn't. The object I use to write is either a pen (oder Kugelschreiber auf Deutsch) or it isn't.
I thought, why can't video-art (or indeed all interpretative arts) also be binary in nature? It is either video-art, or it isn't.